During the life of your website, other websites will link to it. This could be due to some killer content that shook the world, an info-graphic, outreach or simply people liking what you have to say. These links are an important factor for search engines such as Google to show that people like and trust your site.
As your business grows then your website generally follows suit. Web pages get created, updated, dropped and new ones get created in their place. Maybe your website gets a redesign, switches CMS platform and whole sections of pages that used to be there no longer exist. Events pages get created, promoted and then when the party is over the pages get taken down. All of these things can result in a lot of those valuable links pointing to your site resulting either in an error 404 'Page Not Found' or those pages could be blocked to search engines.
Finding and fixing these 'Orphaned Links' can often be a quick and easy way regaining lost brand, trust and authority signals. This process literally takes 10 minutes.
Let's get started!
1. Export a .csv file of all of the backlinks pointing to your domain.
a) If you don't already have an account the sign up for Majestic SEO – https://www.majestic.com
b) Enter your domain into Majestic Site Explorer, click the 'Use Historic Index' radio button then click search.

c) Select the 'Backlinks' tab and select the 'Remove Deleted Backlinks' radio button

d) scroll to the bottom of the page and click 'Download CSV'

2. Extract a list of URLs using Excel
All we need from this .csv file is a list of site URLs that have links pointing to them so we need to do a bit of doctoring in Excel.
a) Open the .csv file in Excel and delete out all columns except for the 'Target URL' column. Also, delete the top row which says 'Target URL'.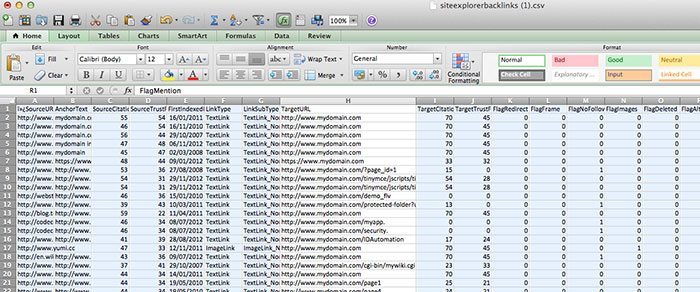 c) There will be a lot of duplicates in your list so remove these by selecting all of your URLs and using Excel's 'Remove Duplicates' function. On my (Mac) version of Excel, there is a button on the 'Data' tab but different versions may vary so a trip to Google may be needed.
d) Save your list of URLs as a CSV file (.csv)

3. Check for orphaned links using SiteBulb Website Crawler – https://sitebulb.com/
a) Fire up SiteBulb and create a new project

b) Leave all of the main settings as default
c) Un-tick 'Crawl Website'
d) Tick 'URL List'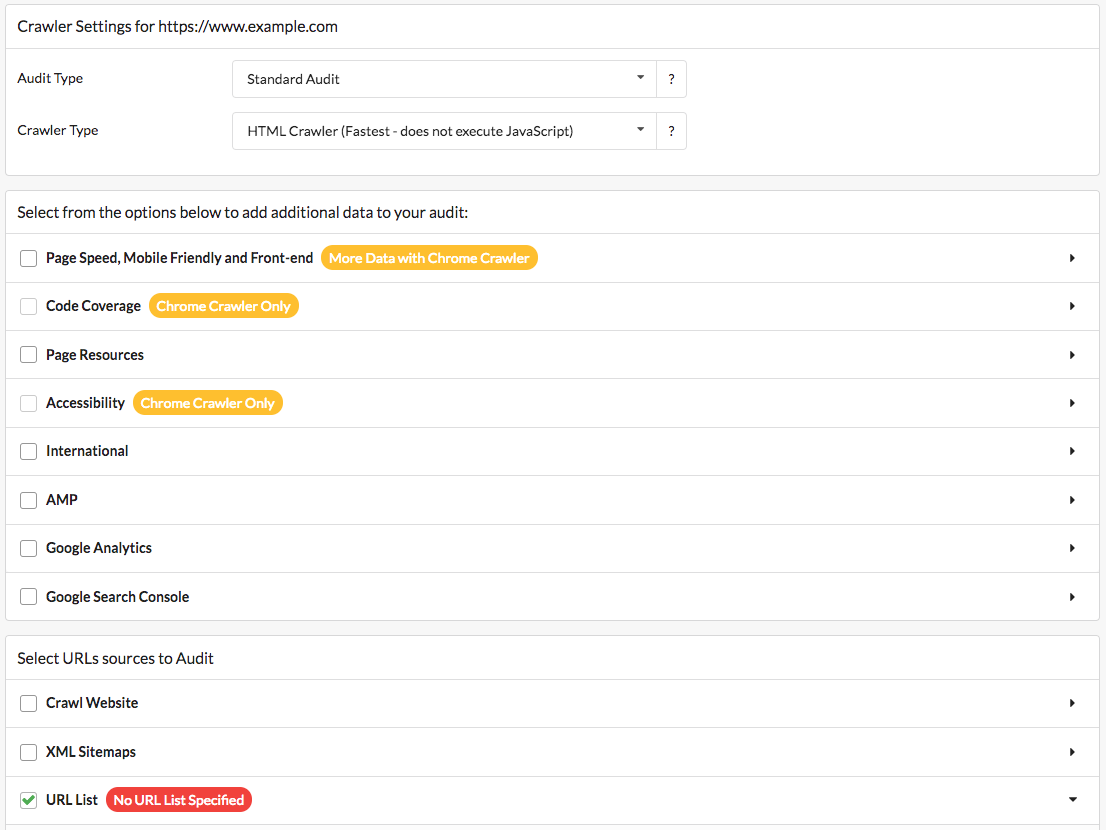 e) Upload the Excel CSV file of site pages that you created previously
f) Start Audit

g) Once SiteBulb has done its magic. We just need a list of site pages that no longer exist (error 404). From the main SiteBulb navigation select Filtered URL Lists > HTML > Not Indexible Internal.

This provides you with a list of all the URLs that you audited. To retain the value of any links pointing to these pages you should either fix or redirect them.
h) Scroll the results table across to the right slightly to see the reason why these pages aren't visible to Google.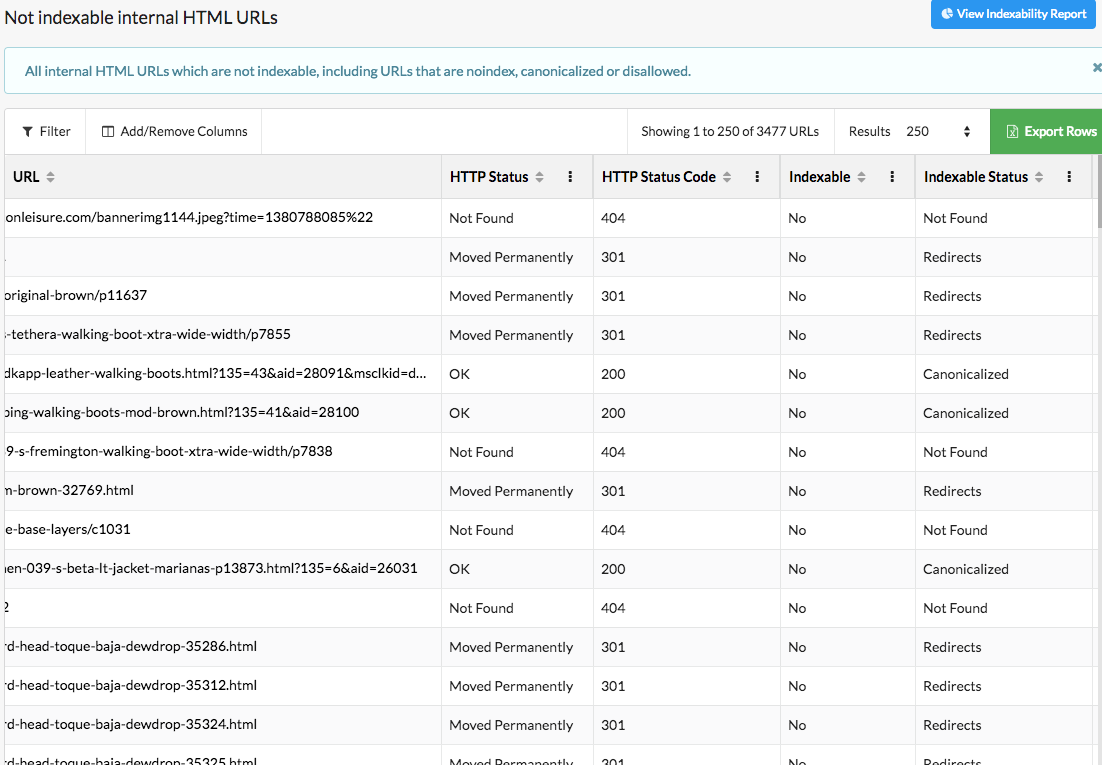 If a 301 redirect exists and it points to another page on your site that is visible to Google or the page gets a 200 response and is Canonicalised then all is good but all other responses should be investigated and fixed.
If you list of results is large then you may find it easier to export these results out to an Excel file. Simply click on the 'Export Rows' button at the top-right of the results.
4. Create a 301 redirect for any pages with a response of 404 Not Found
Rather than just redirecting all URLs to the Home page of your site you should try to work out where these links should be pointing to and redirect them appropriately.
Implementing a 301 redirect is pretty easy but how you do it depends on what type of server your site is hosted on and how your website is built. You can find the different solutions here – http://www.webconfs.com/how-to-redirect-a-webpage.php  
Majestic isn't always amazing at picking up all links and you can sometimes see links appearing in the 'New Links' report that have been around for a long time. For this reason, it is worth while checking for orphaned links every few months.